Back i am.
I missed this den.
**********
I had taken a break from the monotony of hard labour at the forging plant. Life seems so rough lately and so is work for me. Had been physically, mentally and emotionally stressed for the past few days and it felt like im starting to bung up my arteries with bad elements.
I took a trip to baguio along with my ever beloved SERVI (The Office of the Students Affairs (OSA) Volunteer Group) I have been to Baguio twice last year, and of course, both trips were memorable: The november trip with Jit, Ags and Gazl when i was stripped of being a shutterbug as i lost my sister's 7.2megapixel Casio Exilim Digicam, and the December roadtrip with my Kuya Melvin (awabshu kuya ko!), Ate Sheila, Lai, Jin and Doglas when we had real fun out together getting a thrill of the Baguio's gelid temperature with our baby Deli(ca).
The recent trip of course is a lot memorable too. With Sir Jovi, Ate Lance, Lance, Jackie, Avel, ARis, Joseph and Hanna, we had enormous first-rate entertainers inside ourselves. The one that will keep you rolling in the aisles due to persistent barrel of laughs. And it all comes naturally, causing crumbs to shoot off our noses, taking everything at least with a pinch of salt. It was hell real fun and exciting.
This trip also had me at some of my "firsts" in Baguio. My first visit to Bell Church, my first dinner at Cafe by the Ruins, and my first breakfast at Star Cafe at the session road apart from the familiar stroll on the Wright Park, Mines View, The Mansion, Burnham and others.
My Bell Church experience was really haunting.
nYahahaha. After performing the chinese ritual of asking for a sign or a gift, lighting an incense stick, bowing the head thrice in the altar, getting a bamboo tablet from a container ,dropping the block, and getting the answer corresponding to the number on the tablet (no. 84), it was indeed the shocking of my life when i opened the pink papyrus-like paper:
DO NOT MOVE. EVERYTHING WILL BE BAD.
Nyahahaha. Stripped me off of my excitements. Hehehehe. I couldn't paint my face as i approached the chinese man in the desk. WIth my thought processes disrupted, I showed the man the paper. He asked me what my wish/question was, but i just couldn't utter any word. I was just smiling, mid-chuckling how silly i have been for having such a wish. I handed the Chinese man the paper and he just said, " AH kung ano man wish mo, wak mo na tuloy, indi maganda."
LMAO. What could be that wish? And with the verdict, have i been poignant having thought about it? Well, Whatever it is, i just left it there at the temple.
It was also interesting to note how Lance, sir Jovi and Ate Cel's son,is smart enough to process some thoughts as quick as he could possibly do. When i told him that picture taking is not allowed inside the Bell Church, he innocently asked, "Ate, pano ung mga kinakasal dito sa church, bawal din kuhanan ng pictures?" Whew. Matalinong bata. Hehehhe.
We then headed to the Baguio Cathedral and attended a mass. Sir Jovi quipped us to pray at the Cathedral for the reverse answers to the one that we had at the Bell Church. Nyahahaha.Levity aside, for the nonce, the most rational thing to do is to bow my head and kneel and pray and ask for God's providence in the seemingly complex issues roiling beneath my emotional landscape.
Dinner at Cafe by the Ruins was also great.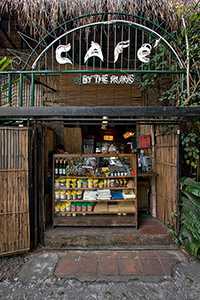 According to the history, the site where Café By The Ruins now stands used to be the pre-war residence of the governor of Benguet. The American Forces destroyed the structure in pursuit of the Japanese Army. All that was left behind was a wall which in 1988, the owners of the lot ingeniously built around to be incorporated into the overall theme of the café.
My first taste at the Pinikpikang Manok,an indigenous broth based food from the Cordilleran region is one of Café By The Ruins' famous dishes.
We were also served with the brown staple mountain rice.
There is also an explosion of fireworks of taste with the Veggie Salad, its tomato, cucumber, watercress and lettuce was as crunchy as it could be, dipped in garlic mayonnaise or vinaigrette.
The Lapu-lapu patty on a laing was indeed savory, and so is the spicy bangus. And Who would have thought that Camote bread would taste as great. All in all, it was total gastronomic experience plus not only does the place have historical significance, but cultural value as well.
My first breakfast at Star Cafe in the session road is simply a gala time. According to Sir Jovi, Star Café is an old restaurant which has been there since 1940. This restaurant has been serving delicious Chinese food and people who usually frequent there sit down for coffee and pandesal along with the morning daily. Evidences are right in front of our eyes, swarming grandpa's in thick eyeglasses. We shared some banters in a table of delicious coffee, spanish bread, cinnamon rolls, breakfast meals of bangus, bacon, eggs and fried rice and hotcakes whose full charges has been partaken by a Ninoy bill from Avel's deeppocket.
All in all, it was a great runaway from the hustles of our busy lives. Three days is quite short though for a full charge. But nevertheless, my spirits have been renewed, being with the people whom you know value you a lot.