POSTED ON:


What gadgets you own?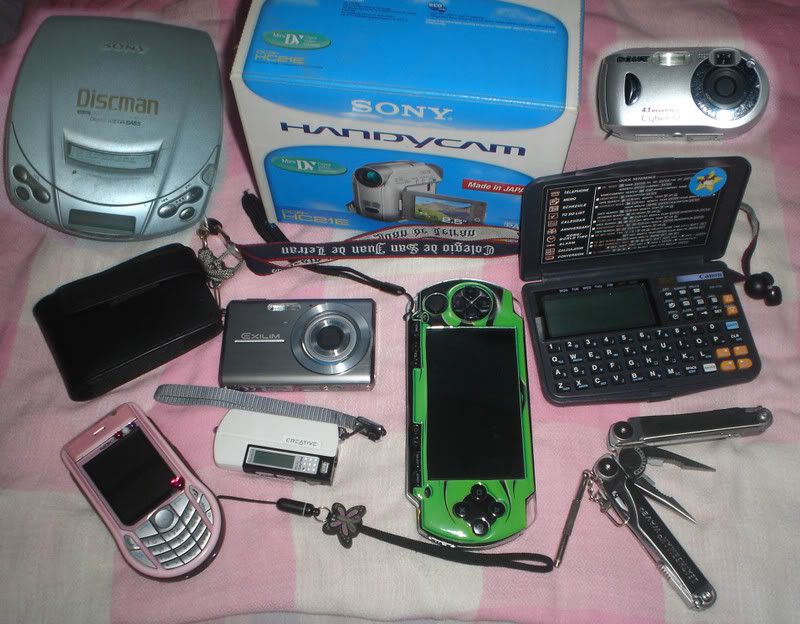 http://www.symbianize.com/showthread.php?p=379975#post379975
HEHHE...19 KOPONG KOPONG PA TONG IBANG GAMIT KO...PERO TAGO KO PA DIN KSE MAY SENTIMENTAL VALUE :D
SONY HANDYCAM DCR-HC21E (gift from my tatay) (sori box lang...nasa hiraman...ginagamit ng ate ko e :lol:)
SONY DISCMAN (gift from my tatay) >>> sobrang love ko to...nakailang sira na..pinapagawa ko pa din...hindi ko pagpapalit sa IPOD to...nyahahah (unless libre ung IPOD :lmao:)
SONY DSC-P43 with 4gb memstick (my first digicam )
SONY PSP fat (from AJ :D)
CASIO EXILIM EX Z75
CANON INTELLIGENT ORGANIZER DM4700 (na ninenok ko sa kapatid ko kase hindi nya ginagamit...hindi mabilhan ng battery :lmao:)
CREATIVE MUVO TX FM (classic na..pero love ko talaga..unang purchase ko sa bpi cc ko e..)
LEATHERMAN WAVE (from my kuya melvin.....ito pinaka fave ko sa lahat...kase meron syang....
Needlenose Pliers
Regular Pliers
Wire Cutters
Hard-Wire Cutters
Clip-Point Knife
Serrated Knife
Saw
Scissors
Wood/Metal File
Diamond-Coated File
Large Bit Driver
Small Bit Driver
Large Screwdriver
Ruler (8 inch/19 cm)
Bottle/Can Opener
Wire Stripper
Lanyard Attachment
Two Double-Ended Bits
(revelation ito...nyahahaha....mekanikal e..sinong kakasa? :lol:)
AND MY NOKIA 6630.
i love my 6630 :D
YAN :D