Because it's Monday and i don't wanna to spoil my whole week.. i kept my fingers from pounding the hell out of my keyboard.
That abstinence has expired
NOW.
I was tuned in this morning to 99.5rt's disenchanted kingdom segment and it was indeed an amusing conversation with the DJs discussion on what could be worst than waking up to a Monday morning.
I would, if i could, called up the station and relate to them what had just happened the moment i stepped in the company premises, worst than waking up to a Monday morning.
>>> Someone refused to see and talk to me after being bitter for not having been invited to the out of town vacation we had this weekend. I wasn't even the organizer, i was just also invited, and i couldn't tag her along, not only for the reason that the organizer didn't want her to be around, but also for some obvious financial complications. Add to that, there wasn't available space for an additional person outside the planned logistics. Well, here's the thing, when she saw me inside the locker room this morning, she refused to enter thinking all the while that i hadn't noticed her peeking behind the shelves. Hmmmnnn. Let alone her bitterness. Funny thing, i also refused to give her my pasalubong. hahaha.
>>> Someone tried to use my pc here at my workstation. Failing to log in to windows, he/she just left my pc open for 3days and 11 hours. What the "insert here the F word here"
>>> I instructed the new lady engineers to lock the door of our comfort room so as not to be abused by production people come nightshift. Lo and behold, they left it open for everybody's use... for three straight days! Epic Fail!
Well, waking up to a Monday Morning hasn't always been a worst thing. Forcing myself to wake up to another week starter and facing the boss and feeling-boss here at work has always reminded me that i am such one lucky two-legged creature blessed with a six-day per week job that enables me to post an entry here in my blog. Clap clap clap.
So let alone my own spasms of anger.. i got a booster from the best of the best..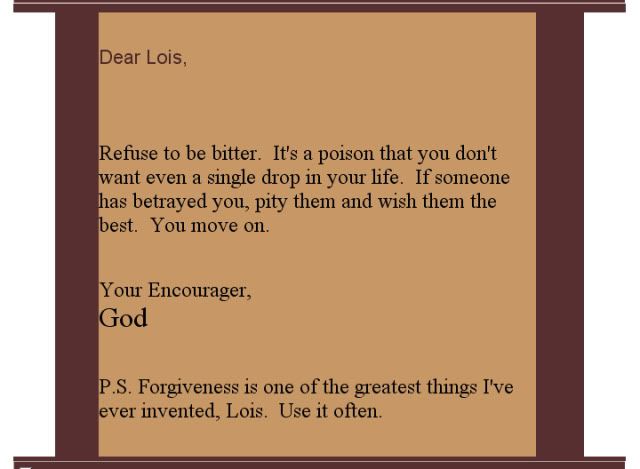 from GodWhispersClub@gmail.com

God forgive me for my kamalditahan. Sorry na po :)